Well, it's that time of the year again! The time to decorate your home and spend quality time with your family! I think that everyone can agree that this year has been exhausting and challenging. So, what better way to end 2020 than to add a little spookiness to your holiday festivities! Whether you are looking for Christmas decorations, holiday gifts for your loved ones, or want to go on a shopping spree for all things creepy, Etsy has got you covered! So sit back, relax, and let me guide you on the top ten spooky Christmas products to purchase on Etsy, enjoy and Happy Holidays!
1.) BADvent Calendar: A Krampus and Creepy Christmas Creatures Advent Countdown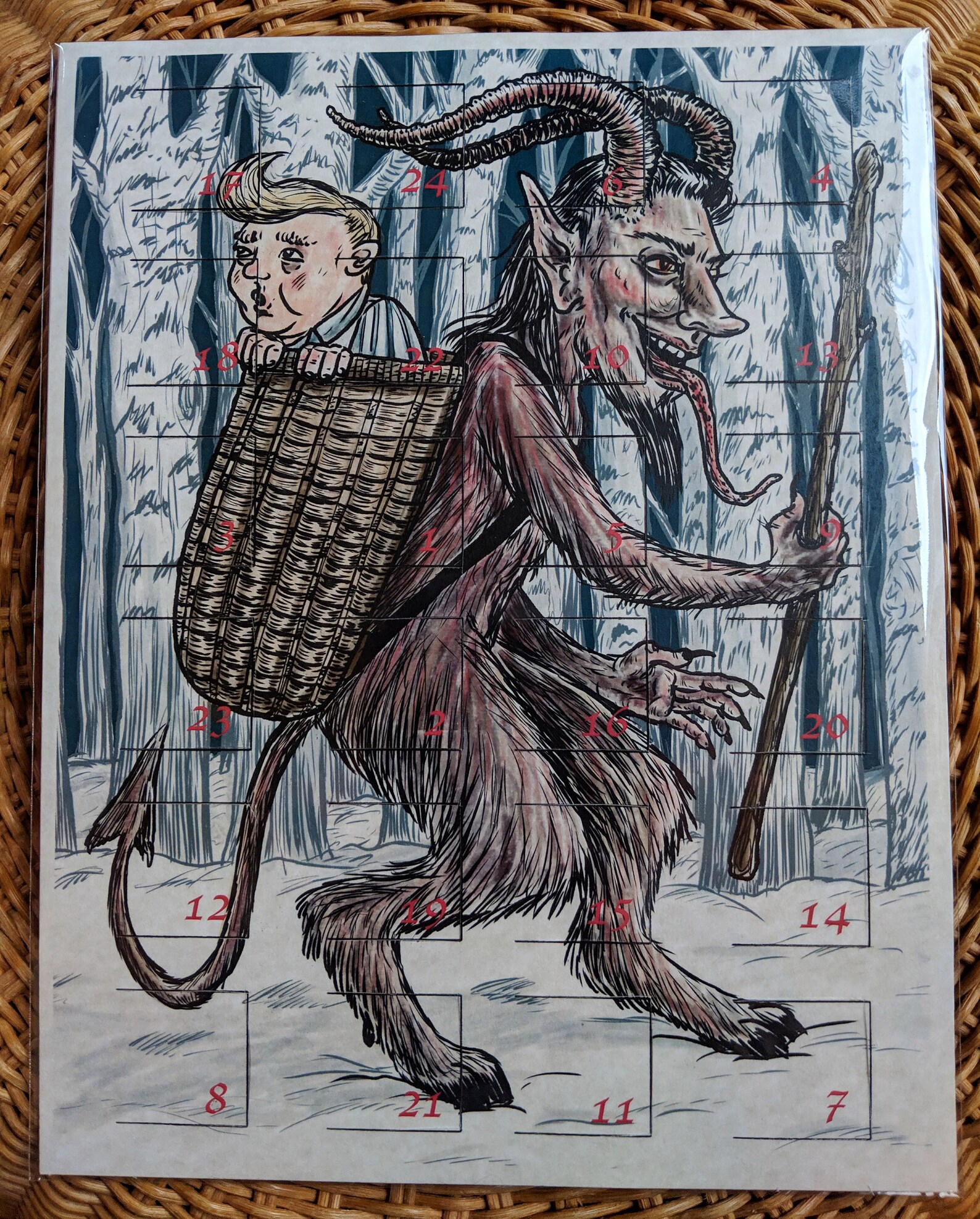 Why don't we start off with a Christmas calendar countdown? Let's face it, who doesn't like Krampus, he's such a lovable character! Look he even works as a part-time babysitter!
2.) Pastel Goth Spooky Christmas Cards | Seasons Creepings, Merry and Fright, Holiday Spirit | Creepy Witchy Yule Present | Gothic Christmas
What better way to spread the holiday cheer than to send these spooky Christmas cards to your loved ones. No one can say you don't have the Christmas spirit! Look at these adorable ghouls!
3.) He Sees You When You're Sleeping Horror Christmas Ornament
This is the perfect Christmas decoration you must have on your Christmas tree! What better way to feel the holiday spirit than to know that Big Brother sees you when you're sleeping?
4.) Creepy Candle Set, Christmas Gift, Birthday Gift, Spooky Candles, Red White and Pink Beeswax Candles, Heart, Skull, Brain
Brains, Skulls, and Hearts Oh My! Give the perfect Christmas gift you can give to a loved one, with these spookish candle wax set, that'll sure make them want to leave the lights off!
5.) Creepy Horror Christmas Nightmare Evil Ornament set
Decorate your christmas tree with this Nightmare evil Ornament set! This would surely be the talk of the evening!
6.) Creepy Christmas Halloween Stocking
Include this Halloween stocking in your holiday shopping list! Halloween and Christmas combined, it's the perfect recipe, for a spooky christmas.
7.) Christmas Mistle "Toe" or Missing Toe
There's nothing more romantic than kissing under the  Christmas Missing Toe, this holidays. Ahh, what a magical night!
8.) Christmas Ornament Set Classic Monsters Too by Monstorium | A Great Halloween Gift featuring: Ghost, Mummy, Nosferatu, Frankenstein
Give your loved one this Christmas Ornament Set Classic Monsters Too by Monstorium. This set will fit perfectly with your spooky/creepy Christmas decoration sets.
9.) Skull Candy Cane Christmas Tree Ornament, Creepy candy cane, Spooky Christmas Tree
What better way to show your holiday spirits than to get these Skull Candy Christmas Tree Ornaments! What a ghoulish delight!
10.) Creepy Elf on a Thing, Elf reading book, Doll, Creepy Doll, Haunted Doll, elf shelf, Creepy elf at library, digital download, bookstore
Give your loved one the perfect gift this year. This adorable Creepy Elf Thing will make an awesome addition to your bookshelf!